Ok, been suffering from this for ages and failed 2 MOTS on it. OK, so you can stick the old 15's on to get it through - but it's such a pain!
Here's quick write up to stop this happening.....
Firstly, it's most probably your tyres causing this sort of damage: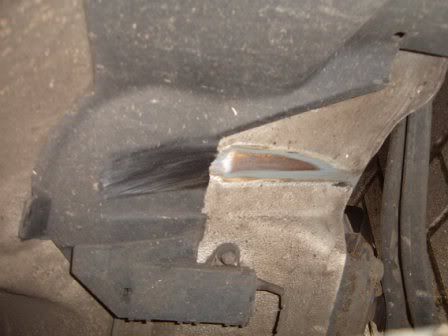 To fix it, we need the following:

1 x Steering Lock stop kit, BMW Part No. 32 11 1 140 479 - £9.20
4 x Long, strong cable ties
32mm Flat Spanner or Pipe Wrench
Hammer
Flat Blade Screwdriver
OK, jack the car up, and rest safely on axle stands - see
HERE
Now, you need to locate the rubber sleeves on the steering rack, they look like this: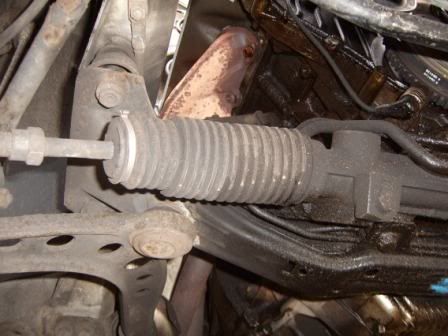 You need to undo the silver clips holding the sleeving on. They are a pain to get off, but if you go careful, they can be re-used.
Note: The replacement clips that came in my kit were too big
So, move the rubber sleeving out of the way, buy pushing it down towards the wheel. This reveals the steering rack: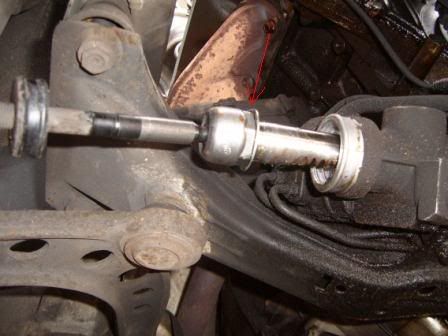 The small brass washer, indicated by the red arrow is what we need to replace.
You'll notice the top of the washer is bent over: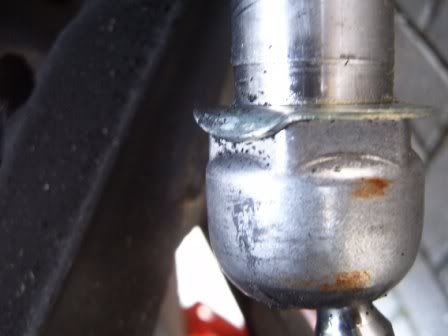 Use the screwdriver and hammer to genyly straighten this up:
Now carefully undo the large (32mm) nut that connects to the end of the steering rack. DO NOT ROUND THIS OFF as they are very tricky to replace! Hold the wheel before it pops off the end, else it will fly back quite fast beacuse of it's weight.
Here, we can see the difference between the two stops, the new one is much thicker, thus limiting the amount of turn on full lock: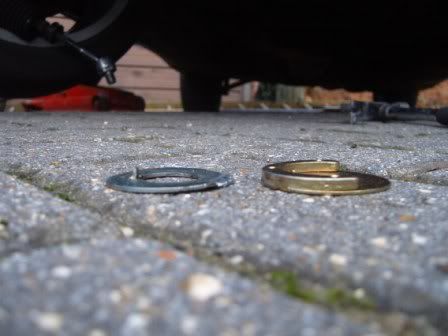 On the end of the steering rack, you'll notice a small notch.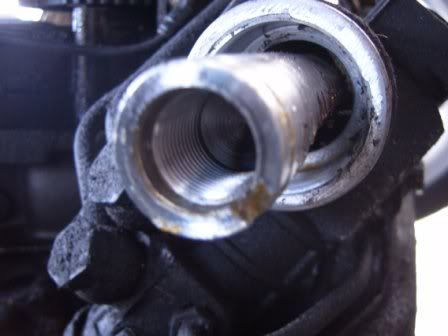 Place the new brass washer onto the end of this, plaing the lip on the washer, into the notch on the rack. Now put the nut back on, and tighten as much as you can.
You should have something looking like this: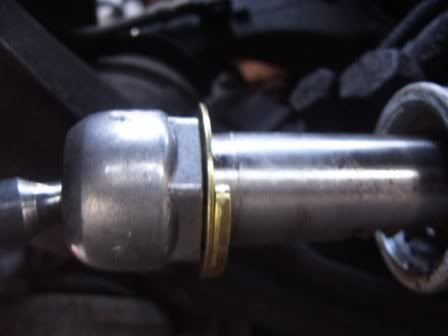 Next, ben the top of the washer over by gently tapping it with the hammer. (how the oringinal was before removed)
Now simply return the rubber sleeving back to it's position and secure in place using cable ties where the metal clips were.
Job Done
I hope this solves the problem you had - it's my first write up so bear with me
NOTE:
This is the way I solved the problem. All prices are those which I paid and may differ around the country. Neither mysel, nor e36coupe can be held responsible for any damage caused by following the above instructions.